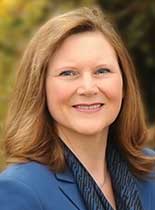 Jan Dyer is a licensed California Certified Public Accountant. She is a graduate of Cal Poly Pomona where she received a Bachelor of Science degree in Business Administration and Accounting. Dyer has been a licensed CPA since 1981.
Dyer's wide breath of accounting and tax experience started as an audit supervisor for international accounting firm Deloitte in Los Angeles. During her career she has worked with a variety of small-to medium-sized businesses, technology and manufacturing companies, and has served as a Chief Financial Officer in the corporate environment.
Dyer's vast experience includes executing accounting and financial strategies for start-up companies and turnarounds; debt restructuring and credit negotiations; private placement offerings, budgeting, payroll, cost management and tax planning and preparation. Dyer brings a large company perspective and experience to all of Luers & Dyer's clients.