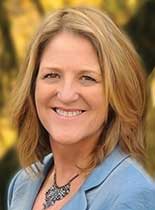 Rebecca Luers is a licensed California Certified Public Accountant. She is a graduate of San Diego State University where she received a Bachelor of Science degree in Business Administration and Accounting and a Master's Degree in Taxation from Golden Gate University. She has been a licensed CPA since 1987.
Prior to founding the firm in 1994, Luers spent 10 years as Tax Manger for mid-size San Diego CPA firms specializing in taxation. During her career she has worked extensively for the real estate industry and worked with closely held businesses and professionals as well as retired individuals. Before starting her career in public accounting in 1985 she worked for 5 years in private industry accounting.
Luers' diverse experience includes an emphasis in tax matters and planning. Rebecca brings a hands-on approach and an understanding of small business operations and financial strategies for individuals. During each part of our Luers & Dyer's client's life or business cycle they have the assistance and support they need to achieve their financial goals.