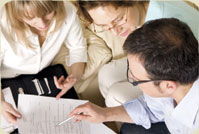 Luers & Dyer CPAs has built its reputation for integrity by providing the highest quality of service to our clients. We do everything possible to ensure that our clients are well served. Our mission is to provide professional services that enable our clients to thrive. Every member of our valued staff strives to achieve levels of excellence in client satisfaction by practicing the highest quality of service, observing the highest ethical and professional standards, including strict adherence to confidentiality, and operating with integrity and accountability. We constantly strive to improve how we attain, interact, treat, work with and show appreciation to our clients.
Our clients come to us when they have pressing issues on their minds - whether it is a major financial, strategic or operational need or an organizational challenge. They look to us for honest, objective, thoughtful, and experienced advice.
Our clients talk to us when they find themselves under pressure to deliver results. They call us in uncertain times. They talk to us when information is difficult to get and insights are scarce. They call us when they need to make decisions that will have major consequences for their people and organizations.
With our broad experience across industries and financial services we work hand-in-hand with our clients to understand their business, manage and sustain growth, and maximize revenue.