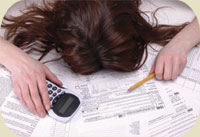 Its tax time again and the deadline for filing tax returns is right around the corner. By now, youve received most of your tax documents. If these documents have raised some questions or youre confused about how to proceed with filing your tax returns, it may be time to consult a Luers & Dyer.
If you havent jumped right in and completed your tax returns, it may be because you had some unusual transactions during the year. Changes in income, investment losses, or deduction changes can make filing a return on your own challenging. If youre not sure how to accurately file these transactions Luers & Dyer can help you quickly and easily find the answers that give you the greatest deductions while following current tax codes.
Most businesses and individuals need financial advice at one time or another. Circumstances change and create new challenges birth, death, children growing up, aging parents, new jobs, retirement, marriage and divorce are all significant changes that can have tax consequences. These are good topics to discuss with us.
Changing times lead to new circumstances. Sometimes the answers as they relate to your tax return filing arent so obvious. What if scenarios can keep you up at night. No one can be expected to navigate complicated financial situations on their own. If this sounds reassuring, you need Luers & Dyer.
Purchase and sale of real estate always raises tax questions. We can easily identify all possible expenses and deductions from these transactions. Sales of real estate or stock create capital gains and losses which have different tax treatment than income you earn by working or income you receive from rental properties. We can help you sort these issues out too.
Consulting Luers & Dyer can make filing your taxes cost effective and headache free. Bring a list of questions to your appointment so you get the answers you need. And make your appointment early. Youll be glad you did.
Luers & Dyer, CPAs, LLP is a full service accounting firm with offices in Julian and San Diego. For more information about our company call (760) 765-0343.