Planning for Future Care: A Financial Dilemma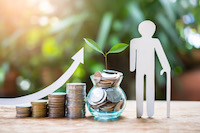 Long-term care costs that drain your nest egg is a financial pothole that is hard to avoid. Here are some ideas to help manage this hazard.
How much is needed
Here's how much money you'll need for three different types of senior living arrangements according to Genworth's 2021 Cost of Care Survey:
•
In-home care
- $4,957 to $5,148 monthly; $59,484 to $61,776 annually
•
Community and assisted living
- $1,690 to $4,500 monthly; $20,280 to $54,000 annually
•
Nursing home facilities
- $7,908 to $9,034 monthly; $94,896 to $108,408 annually
The traditional source of payment problems
Too many people unfortunately think that Social Security, Medicare and health insurance will cover the costs of long-term care. While about half of adults age 50 and over believe that Medicare will cover the cost of long-term care services, according to an AARP survey, the reality is that Medicare provides very limited coverage for long-term care.
What you can do
Here are some suggestions for how you can care for yourself and your loved ones when you need it.
•
Review long-term care insurance.
While it's hard to find a cost-effective policy, long-term care insurance helps pay for several types of services ranging from in-home care to nursing homes. It can be difficult to qualify for long-term care insurance, however. Policy underwriters require you to answer questions and possibly complete an exam to determine medical eligibility.
Some employers offer long-term care insurance that is purchased at group rates. If your company offers coverage, it may be a better alternative than purchasing a policy on your own.
•
Take advantage of tax benefits.
Long-term insurance premiums may be tax deducible. Tax-qualified polices are considered a medical expense and the premiums are listed as an itemized deduction. For more information, speak with an insurance agent specializing in long-term care policies as well as your tax professional.
• R
esearch long-term care costs in your state.
The cost of long-term care services varies by state, type of services required, and type of services preferred. Knowing the cost of long-term care available in your area is a good starting point in the planning process.
• L
everage life insurance.
Certain life insurance policies with an early withdrawal for terminal illness or care needs can be an alternative to long-term care insurance. And if structured properly, it can also have tax-free status when used.
Before taking steps for your care as you age, please talk to qualified experts. While long-term care is costly, so is making the wrong decision on how you are going to fund it.