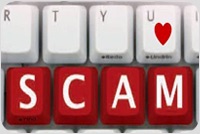 Millions of Americans visit online dating websites every year hoping to find a companion or even a soulmate. But as Valentine's Day gets closer, the FBI wants to warn you that criminals use these sites, too, looking to turn the lonely and vulnerable into fast money through a variety of scams..
These criminals-who also troll social media sites and chat rooms in search of romantic victims-usually claim to be Americans traveling or working abroad. In reality, they often live overseas. While their most common targets are women over 40 who are divorced, widowed, and/or disabled, but every age group and demographic is at risk.
Recognizing an Online Dating Scam Artist
Your online "date" may only be interested in your money if he or she:
• Presses you to leave the dating website you met through and to communicate using personal e-mail or instant messaging;
• Professes instant feelings of love;
• Sends you a photograph of himself or herself that looks like something from a glamour magazine;
• Claims to be from the U.S. and is traveling or working overseas;
• Makes plans to visit you but is then unable to do so because of a tragic event; or
• Asks for money for a variety of reasons (travel, medical emergencies, hotel bills, hospitals bills for child or other relative, visas or other official documents, losses from a financial setback or crime victimization).
Do not send money through any wire transfer service to someone you met online. The chances of recovering your money are very slim. If you fall victim to one of these scams, immediately report it local authorities and file a report on the FBI website.
Luers & Dyer, CPAs, LLP is a full service accounting firm with offices in Julian and San Diego. For more information about our company call (760) 765-0343.