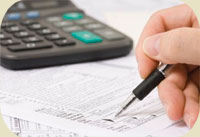 Taxpayers who meet certain requirements must file tax returns to report their income and claim allowable deductions. In 25 years preparing tax returns, we cant recall meeting anyone who actually enjoyed paying taxes. Almost every client has a unique approach and attitude toward filing tax returns and paying taxes but most taxpayers accept the need to obey the law and fulfill their civic duty by reporting and paying their fair share of taxes when they are due.
Some taxpayers are unable to pay their taxes in full when due. While this is not a desirable position, it is not a unique one either. Often, with proper planning and budgeting this situation can be avoided, however if you find yourself facing this issue there are several options. Luers & Dyer can resolve many issues for you with a phone call at minimal cost.
Financial stress and the inability to pay the taxes due with the return can also lead to late or non-filing of returns - a more serious matter. One late return can easily lead to a pattern of late or non-filing. Typically, a significant life event or hange in the complexity of financial transactions can be a trigger. Procrastination is often a factor.
Do yourself a favor by filing your taxes. Refunds can be lost if you dont. You can reduce taxes and avoid penalties. The IRS identifies non-filing taxpayers with a filing requirement and prepares substitute returns which typically reflect a higher tax liability. Tax returns are an important part of your finances and are the basis for many financial transactions and benefits.
Fear is a contributing factor to late returns remaining delinquent. Getting into compliance can be relatively painless with a tax professional familiar with filing delinquent returns and tax collection matters. Only attorneys, certified public accountants (CPAs) and enrolled agents can represent taxpayers before the IRS in all matters including audits, collection and appeals. Tax compliance reduces stress and can provide peace of mind. Get the help you need.
Luers & Dyer, CPAs, LLP is a full service accounting firm with offices in Julian and San Diego. For more information about our company call (760) 765-0343.